The Midnight Series is a historic romance series based in 1800's England. The first two books in the series, Pursuit of Midnight and Taken by Midnight, are now available. The series revolves around the Ashcroft siblings who are a precocious lot and always dig their way into some kind of trouble. In their world mystery, danger and romance go hand in hand.
Pursuit of Midnight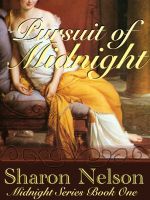 Is it possible for two people to stop a secret organization from destroying London, find a missing man, and catch a killer? Will they be able to do it all without losing everything?
Society believes that her twin brother is dead but the recently widowed Lady Cadence Cooper was given reason to believe otherwise. A message delivered by a mysterious veiled woman has led her to suspect the involvement of the Midnight Club in his abduction. In order to keep her sisters out of danger, Cadence has no choice but to enlist the aid of a perfect stranger to help her. The Duke of Remington owed her father his life and she is hoping it will be enough to convince him to aid her. Little does she know that the current Duke of Remington is not the same gentleman her father once called friend and getting this dark stranger to help her may cost Cadence more than she is willing to offer.
Blake Morris, Duke of Remington has his own reasons for investigating the Club and when a very audacious Lady with surprising information about the club demands his assistance, he has no choice but to succumb to her demands. Before long he is caught up in her crazy plans and swept away by her courage. When a plot is uncovered that could destroy London they will risk everything to save the city, their families and each other. Will they be able to unravel the secrets of the Midnight Club? Or will they lose more than just their hearts in The Pursuit of Midnight.
Links:
Amazon
Barnes & Noble
Smashwords
Taken by Midnight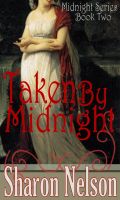 Lady Althea Ashcroft should know better than to sneak into a gentleman's home in the middle of the night but when she suspects the gentleman of being involved with the Midnight Club it's difficult to resist. When that gentleman is Henry Mason, Earl of Prescott it is impossible to resist. She knows he must be up to no good. From the first moment she met the earl the fluttering in her heart told her that he was going to cause untold complications in her orderly life. When he catches her in his study in the middle of the night she finds out that she was frighteningly correct.
Henry has a problem, and when the finds the enchanting Althea Ashcroft sneaking into his study in the middle of the night he realizes that he has been given a solution; a rather enticing solution. The lady has an effect on him that is impossible to ignore but she is determined to dislike him. When he blackmails her into assisting him in gathering information on the club's circle he quickly realizes that she has a mind of her own and is good at using it to get herself into trouble.
As they begin to close in on the leader of the Midnight Club, the Phoenix, they realize that they may be in over their heads. It is a desperate struggle to infiltrate the clubs inner circle without betraying their true motives to the club and to each other.
Links:
Amazon
Barnes & Noble
Smashwords